The Community Economic Resilience Fund (CERF)
The CERF program holds significant importance as a pioneering effort that places a strong emphasis on promoting equity and inclusion in economic planning. Unlike traditional approaches, CERF goes beyond merely focusing on economic growth and development; it strives to create an inclusive framework that considers the needs and aspirations of all members of the community, especially those who have been historically marginalized or underserved.

By actively engaging underrepresented groups and communities, CERF aims to ensure that their voices are heard, their perspectives are considered, and their interests are integrated into the decision-making process. This approach fosters a more comprehensive and holistic understanding of the challenges and opportunities faced by diverse populations, leading to more impactful and sustainable economic development.

Through its innovative and inclusive approach, CERF serves as a beacon of hope for driving positive change in economic planning, laying the foundation for a more equitable and prosperous future for all.

The CERF program will:
Uplift under-voiced community needs to ensure they are included in Los Angeles County's 10-year Regional Economic Recovery Plans.
Ensure disinvested community members can access job and economic opportunities in high-growth sectors.
In this process, CERF will map and support local community readiness to transition toward a carbon-neutral tomorrow and outline ways you can participate and benefit.

Why You Should Get Involved:
Through this historic initiative, community stakeholders will get a seat at the table within our Los Angeles High Road Transition Collaborative:
Be at the forefront of helping community members attain high-quality green jobs by identifying and funding projects, pipelines, and regional strategies
Help create a more equitable region while working collaboratively with other community partners.
CERF Goals and Objectives:
The CERF program was created by the State of California to help local regions develop regional economic development plans. In Los Angeles County, CERF will help local stakeholders to:
Create high-quality and accessible jobs for all Californians

Help local communities to transition and thrive in a carbon-neutral economy

Invest in COVID-19 recovery and build long-term economic resilience

Integrate the priorities of local residents in the region's 10-year plan
The program seeks to develop and promote plans and strategies to identify high-quality, good-paying jobs in eco-friendly industries to increase disadvantaged communities' opportunities and quality of life. The CERF will also support businesses that invest in their workforces, pay living wages, and engage in environmentally sustainable business practices.

Understanding the Mechanics of the CERF Program: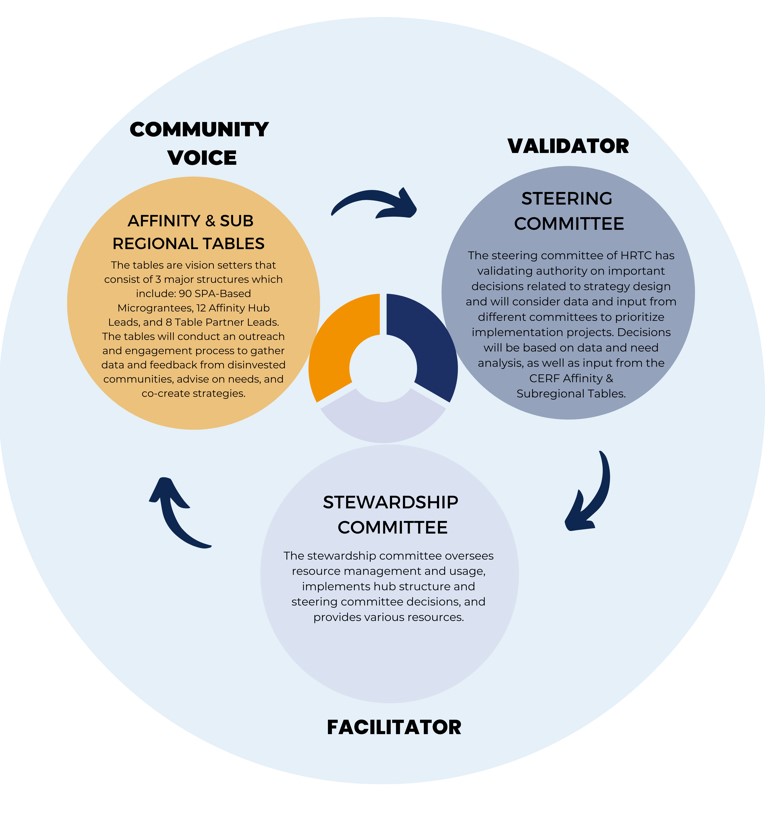 Affinity & Sub-Regional Tables
Role Defined:
SPA-Based Micrograntees

are responsible for a specific thematic area within each SPA, EX: Youth in SPA 1-9. Their duties include gathering relevant data and community input, responding to data analysis, advising on key needs, co-creating economic development strategies, and summarizing concepts to inform the CERF planning process. They also hold monthly meetings and provide public updates to ensure hard-to-reach constituents have access to information.




Affinity Hub Leads

facilitate regular conversations within their respective affinity areas, respond to data analysis, identify community needs, share information with other community / business / industry cluster tables, provide capacity-building resources for community participation, and gather feedback and decisions from community members across Affinity and Subregional Tables. Their primary focus is to facilitate the flow of information regarding HRTC priorities between stakeholders and the Steering Committee.




Table Partner Leads, meanwhile, support the work of small businesses, economic development, and other underrepresented populations that require additional data gathering and in-depth planning.

Representation:
There are 90 SPA-Based Micrograntees, 12 Affinity Hub Leads, and 8 Table Partner Leads.





The Affinity & Sub Regional Tables are made up of all of the required stakeholder groups identified in the SFP.
Steering Committee
Role Defined:
As the validating body, the Steering Committee incorporates the feedback and data received from the Affinity and Subregional Tables. They make informed decisions on items related to the design and implementation of HRTC strategies for the region based on information and guidance from the Affinity and Sub Regional Tables, and governance structure as a whole.





This committee will be responsible for deciding on key points such as budget allocation, goals/outcomes and types of data, outreach and engagement strategy, regional strategy (Phase 1), and economic development and transition roadmap project strategies to prioritize for implementation projects (Phase 2). These decisions will be based on data and need analysis, as well as input from the Affinity and Subregional Tables and the Stewardship Committee.
Representation:
The Steering Committee will be comprised of 38 representatives of critical voices from government, labor, business, industry, and community stakeholders that serve as the primary decision-making body for the High Road Transition Collaborative.​





A supermajority of the seats on the Steering Committee is dedicated to community-based leaders of disinvested communities, rooted in grassroots and community-based organizations. Priority will be given to leaders of organizations committed to equity, environmental justice, and advocacy for disinvested communities.





As per the proposal, the formation of a Steering Committee will be composed of a subset of representatives from the Affinity and Subregional Tables, Hub Leads, representatives from all required CERF-related stakeholder groups, and selected community members. Out of the total seats in the Community-Based Leaders subgroup, 12 will be allocated to leaders of the Affinity Hub Areas.





The Fiscal Agent and Regional Convener will have non-voting seats on the Steering Committee.
Stewardship Committee
Role Defined:
Responsible for overseeing the management and proper use of resources within an organization. One of their main tasks is to review data analysis, which involves examining data to identify trends, patterns, and insights that can be used to make informed decisions.





Responsible for summarizing the concepts shared by data analysts with the steering committee. This involves taking complex technical information and presenting it in a way that is understandable and actionable.





Plays a primary role in the implementation of decisions made by the steering committee. They ensure that decisions are carried out effectively and efficiently.





Provides resources for training and capacity building, communications, ongoing engagement, contracting, and subcontracting. This includes identifying training needs, developing training programs, and providing support for communication and engagement initiatives. They also oversee the contracting and subcontracting process, ensuring that contracts are awarded fairly and that vendors are held accountable for delivering quality work.
Representation:
The Stewardship Committee is comprised of the Convenor and

Fiscal Agent.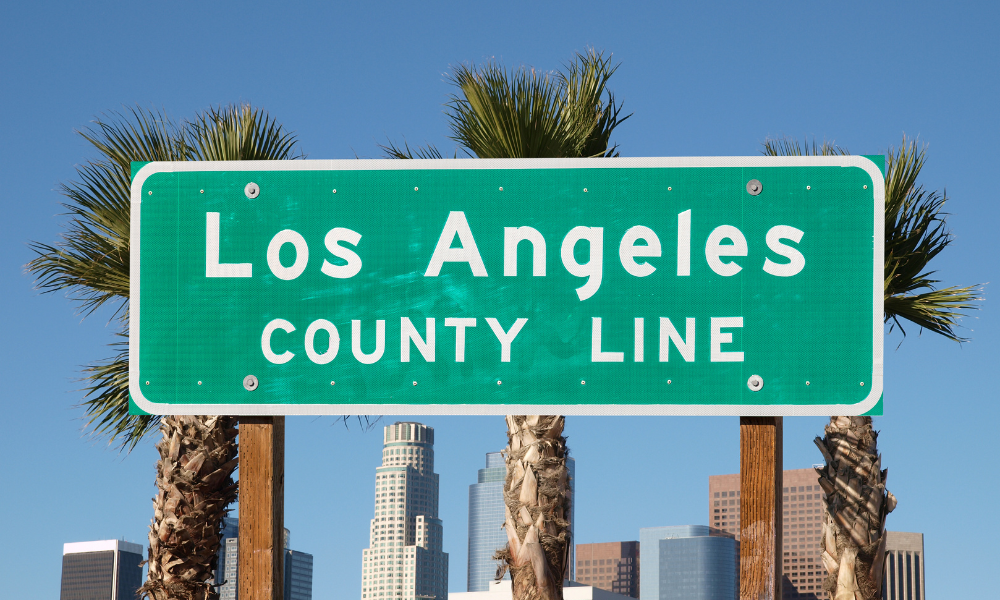 Los Angeles Coalition of over 200 Organizations and Stakeholders Awarded Phase 1 Funds for CERF Process
The CERF LA HRTC Will Prioritize Accessible, High-Quality Jobs in Sustainable Industries.
READ THE PRESS RELEASE